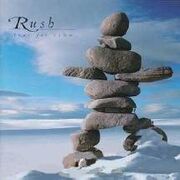 Test for Echo was the 16th studio album by RUSH. This was the last album they recorded for quite a while. A family issue with Peart (See On a Side Note section for more details) led the band to a hiatus until 2002. This was album had very good critical reception. Allmusic reviewer Stephen Thomas Erlewine a 3 out 5 stars. He said they "rarley played better in the past decade."
Track ListingEdit
Test for Echo
Driven
Half the World
The Color of Right
Time and Motion
Totem
Dog Years
Virtuality
Resist
Limbo
Carve Away the Stone
On a Side Note....Edit
Peart's daughter had died in a single car crash, and his wife passed away 10 months later with problems stemming off of cancer, but Peart said she had died from a broken heart "it was a slow suicide from apathy." "She just didn't care." he said in a later interview.
Test for Echo reached position number one on the Mainstream Rock chart.
The hit song Driven became a primary bass showcase for Lee's performances.