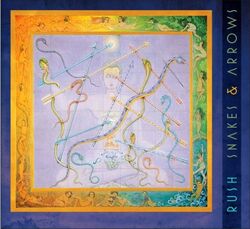 Snakes & Arrows
was the 18th studio album released by RUSH since 2004's
Feedback
. This was also the first full length studio album since 2002's
Vapor Trails
. This album explored new ground for the band, using new types of instruments. Such as mandolion, bouzouki, and other new things.But it also looked back at different things. This was the first time they used a 12 stringed guitar on an album since
Hemispheres.
Track ListingEdit
Far Cry
Armor and Sword
Workin' Them Angels
The Larger Bowl (A Pantoum)
Spindrift
The Main Monkey Buisness
The Way the Wind Blows
Hope
Faithless
Bravest Face
Good News First
Malignant Narcissism
We Hold On
On a Side Note....Edit
Sort of like the hit instrumental, La Villa Strangiato, "The Larger Bowl" was inspired by a dream Peart had in 1988 when he was in West Africa, he said in his later book,
"Anyway... a song was playing in the store, a plaintive ballad called "The Larger Bowl." Something about loneliness and the misfortunes of life, I recall. No such song as far as I know, but I like the title."
They started the majority of the music on this album with a method called jamming. Many of the RUSH albums have started from jams, and Peart writes the lyrics, then Lee puts the lyrics in the song.
The song Far Cry, was the first song that had a video on this album. The video stars all the band members, and shows an actor who looks like a much younger Geddy. (with a much smaller nose) This video got very mixed critical reception, some liked it, some didn't.