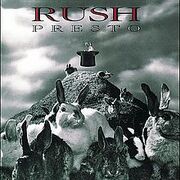 Presto was the 13th studio album of the hit Canadian progressive rock band. This was a very revolutional album for many reasons. The band pushed toward a more established rock and pop song writing period. This year (like some others) was called the "transition" period for RUSH. It changed them from the synthesizer dominion from their previous albums. Lee said in a later interview, "we were getting sick and tired of working with the computers and synthesizers,".
Track ListingEdit
Show Don't Tell
Chain Lightning
The Pass
War Paint
Scars
Presto
Superconducter
Anagram (for Mongo)
Red Tide
Hand Over First
Available Light
On a Side Note...Edit
The hit song Show Don't Tell reached number one on the Album Rock Tracks chart.
The album reached position number 16 by Billboard.
Due to sales, it reached gold certification in the U.S, and platinum certification in Canada.
This was their first album with Atlantic Records after they did not renew their contract with Mercury/PolyGram Records.
The band didn't see it as a great album, only being fond of The Pass, out of the entire album.