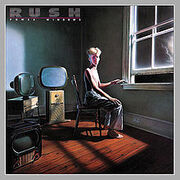 Power Windows is primarily based on the materialization of certain powers, hence the name, POWER Windows. When the hit song off of this album named Marathon was released in 1989 as a single, it reached position number 6 on the U.S. Mainstream Rock chart. This is one of the band's more milestone like albums because of the heavy introduction to new styles of different kinds of keyboard synthesizers.
Track ListingEdit
The Big Money
Grand Designs
Manhattan Project
Marathon
Territories
Middletown Dreams
Emotion Detector
Mystic Rhythms
The song Manhattan Project is based off the origins of U.S. military's development of an atomic bomb.
The song Territories is about spreading nationalism around the world.
Similar to the hit song from Signals called Subdivisions, Middletown Dreams is about the suburban flatness, and the normal person's endeavor to escape it for a little while.
Like the majority of the albums released before 1997, this album was called for a remaster, even though, origanaly, it had a SPARS Code of DDD and was considered "good quality" for the time of its release.