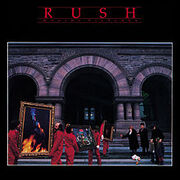 Moving Pictures is the 8th studio album by the band and the most succesful by far. It is famous for it's iconic use of sythesizers, and the songs on it still have a lot of radio airplay today, over 3 decades later. Like the majority of the mainstream albums that the band released, this one was called in for a remaster in 1997. This album was the unofficial start to what became the most electronic period of time for the band, known by fans as "The Synthesizer Period". The majority of the songs on this album had electronics of sorts in it, and the popular song "Tom Sawyer" had whole keyboard solos in it, so a little less bass from Geddy in the song. As a matter of fact, Lee sad that the Tom Sawyer keyboard part started as a simple melody he used to tune his synthesizers.
Track ListingEdit
Tom Sawyer
Red Barchetta
YYZ
Limelight
The Camera Eye
Witch Hunt (Part lll of "Fear" )
Vital Signs
Red Barchetta is based off of the Ferrari 166 MM Barchetta, and a short story by Richard S. Foster called A Nice Morning Drive.
YYZ is based off of the IATA airport code.
The song "Limelight" makes allusions to 3 things:
One: The song after it called The Camera Eye.
Two: Their previous tour All the World's a Stage.
Three: William Shakesphere's famous quote. "All the world's indeed a stage and we are merley players."
The Time Machine Tour last year (2011) was the first time Moving Pictures was played live in its entirety.