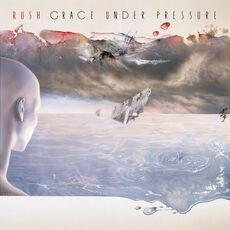 Grace Under Pressure
is one of RUSH'S more interesting albums. Songs like "
Distant Early Warning
", and "Red Sector A" are about The Holocuast, (
Red
Sector
A)
and Nuclear warfare, leading to a nuclear holocuast, (
Distant Early
Warning
).
"The
Enemy Within"
is Part l of the
"Fear" series
.* This is one of the band's more recognized albums, and pushed them even further into the synthesizer, and electronic period.
Track ListingEdit
Distant Early Warning
Afterimage
Red Sector A
The Enemy Within (Part l of "Fear")
The Body Electric
Kid Gloves
Red Lenses
Between The Wheels
Red Sector A, like l said earlier, is based on The Holocuast, but it also is based on Lee's mother's storys about being in the Bergen-Belsen Concentration Camp during WWll
It made position 10 in the Billboard top 200 (North America).
The supporting tour was called State of Grace.
This was the start of the band doing their albums alone after they, "moved on" when they left their former producer Terry Brown.
As a way of comemerating Brown, in the liner notes of the words Grace Under Pressure they wrote in French: "et toujours notre bon vieil ami - Broon", which translates to, "and always our good old friend,".
The music video for Distant Early Warning stared Lee's son Julian and many people today still don't understand the concept of the video.