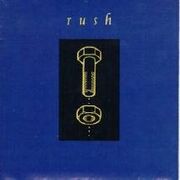 Counterparts is the 15th studio album by RUSH. It was certified gold by RIAA, though Atlantic Records claimed it to be at the platinum standard. This album continues the high bar setting of Roll the Bones. Some songs were considered heavier, like "Animate" and "Stick it Out". While most others pushed toward a dark, dreary, and emotional sort of focus.
Track ListingEdit
Animate
Stick lt Out
Cut To The Chase
Nobody's Hero
Between Sun & Moon
Alien Shore
The Speed of Love
Double Agent
Leave That Thing Alone
Cold Fire
Everyday Glory
On a Side Note...Edit



This is RUSH's highest selling album.
It reached position number two on Billboard 200, only behind Pearl Jam's Vs.
"Leave That Thing Alone" earned a Grammy Nomination for best instrumental.
"Stick it Out" got to the top of the Mainstream Rock Tracks chart for four weeks straight, making it the fifth single by RUSH to do so.