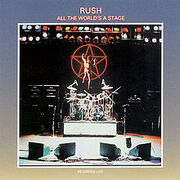 All The World's a Stage was the first live recording of a RUSH concert to be sold as an album. This led to many more live recordings of RUSH concerts. Such as
Exit...Stage Left, State of Grace, Snakes and Arrows Live
, and most recently,
Time Machine Live in Cleveland 2011
. And though the band always did a supporting tour for all of their albums, this tour was special because of the fact that it combined several albums to make one big tour.
Track ListEdit
Bastille Day
Anthem
Fly By Night/In the Mood
Something For Nothing
Lakeside Park
2112 (Overture, Temples of Syrinx, Presentation, Soliloquy, Grand Finale)
By-Tor and The Snow Dog
In The End
Working Man/Finding My Way
What You're Doing
On a Side Note....Edit
The name of this is inspired by a famous quote by the poet/writer William Shakesphere.
The lyrics "All the world's indeed a stage, and we are merley players, performers and portrayers." are in the later RUSH song Limelight.
The song 2112 was reduced by 2 parts for the sake of time during this tour, though it varied which parts each concert.